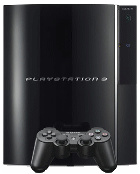 Eager consumers hoping to whet their appetites with a Japaneses version of the
Sony PS3
that launches in 2 days will be in for a little shock. Apparently this first run of PS3 consoles does not contain the correct firmware to enable it to connect to the
Playstation Network
hub. Have no fear as the update is fairly simple, if nothing more than just a simple annoyance.
If that doesn't trip your trigger for Sony being the master of release hardware, there's more. The much touted ability to connect the PS3 with a
PSP
has also run into a bit of a snag. Whether merely software concerns, or yet another attempt at stopping "homebrew" applications on the PSP, users will need to update their PSP to version 3.0 in order to connect to their new PS3s. Unfortunately it seems that this update will not be available until at least the end of November.
Source:
IGN