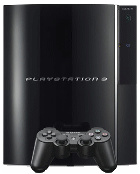 This morning in Japan, just 2 days before the launch of the
Sony PS3
, Japanese consumers were treated with an official release of one network download price point for content on Sony's network.
The content is a game called
Blast Factor
, an answer to the game Geometry Wars, and is set to be priced at 840 yen or approximately $7.00. Taking up about 95 megabytes on the hard drive, it looks like Sony's offerings for digital downloads may carry a bit more payload than those that can be had on the
Xbox Live
servers.
No pricing information has been released for any other titles as of yet nor for anything outside of Japan.
Source:
IGN