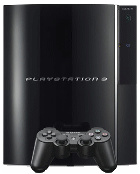 After queuing for as much as a few days, gamers in North America have finally gotten their chance to buy a
PlayStation 3 (PS3)
console. The machine sells in two models priced at $499 and $599. Approximately 400,000 consoles have been made available for the North American launch.
"We're going to try and get as many units into the North American market as possible."
Kaz Hirai
, chief executive of Sony's American games division said.
"Usually most companies would boat the product in, but we're actually chartering airplanes to bring them into the North American market to try to shorten that lead time, so we get as many units into the hands of consumers as possible."
he added. In Japan last week, less than a quarter of the North American figure of the consoles went on sale.
While some consumers lined up for days to buy a PS3 for themselves, some others have turned the launch into a business opportunity, lining up to get a console to sell later.
James Salterio
, 27 is an example.
"I'm gonna sell mine,"
he said, estimating he could fetch up to $4,000 for it.
European gamers will have to wait until March 2007 to get their chance to own a PS3, prompting many PlayStation fanboys to look for any import options they can find.
Source:
BBC News