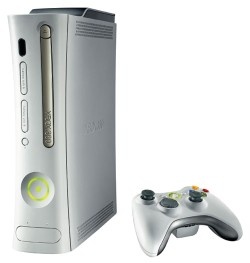 Xbox Live
US Marketplace yesterday launched the service for selling TV shows and renting movies from CBS,
Warner Bros.
Home Entertainment,
MTV Networks
,
Paramount Pictures
, and few other companies. The pricing of the content depends on media format and type, and whether it is a new release or a classic.
High definition TV shows cost 240 ($3)
Microsoft
points, while the inferior standard definition media costs a whole lot less at 160 ($2) points. Movie prices vary from 240 to 480 ($6) points, standard definition
"classic feature film"
will cost you 240, high def classic 360 ($4.5), a new release film in SD 320 ($4), and at the top a brand new HD film 480 Microsoft points.
The movies have a 14-day "rent period", during which you have to watch it, however the movie has to be watched within 24 hours from the first time it is launched.
Full list of available content:

- CSI, CSI: Miami, CSI: New York, NCIS and Star Trek from CBS

- Chappelle's Show, Drawn Together and Emmy and Peabody award-winning South Park from COMEDY CENTRAL

- Pimp My Ride and Punk'd from MTV

- Avatar: The Last Airbender and SpongeBob SquarePants from Nickelodeon

- Skyland and Invader Zim from Nicktoons Network

- Chinatown, Star Trek VII: Generations, Patriot Games, Star Trek II: The Wrath of Khan, The Sum of All Fears, The Untouchables and We Were Soldiers from Paramount Pictures

- Aqua Teen Hunger Force, Frisky Dingo, Harvey Birdman, Attorney at Law, Sealab 2021 and The Venture Bros. from Turner Broadcasting

- Some of the most intense fights from Ultimate Fighting Championship

- Breaking Bonaduce and Hogan Knows Best from VH1

- Perfect Storm, Poseidon, The Shining, Strange Brew, Three Kings and V for Vendetta, as well as The Nine and Studio 60 on the Sunset Strip along with the CW show Veronica Mars from Warner Bros. Home Entertainment
Source:
ComputerAndVideoGames.com