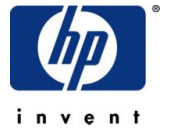 In a release geared more towards providing consumers with a fancy computer peripheral rather than a home entertainment showpiece,
HP
has come out with their external
HD-DVD
drive. Repackaged under the HP name, the
hd100
is a
Lite-On
manufactured drive capable of reading HD-DVD, DVDR/RW (single and dual layer), CDR/RW and CD-ROM discs. It manages all this from a standard USB 2.0 connection to the PC.
Availability for these drives are scheduled to appear in the UK as early as mid-December and have a retail overhead of some £399. This price not only gets you the drive, but also the
Cyberlink
playback software needed to view HD-DVD content on your notebook or PC.
HD-DVD pioneers,
Toshiba
have already been steaming ahead in the next generation digital media war against the competitive
Blu-Ray
format by unveiling its second generation HD-DVD players, the the HD-XF2 and HD-XA2. Toshiba and its partners in HD-DVD (including the likes of HP,
Microsoft
,
NEC
and
Intel
) have a long road ahead of them if they plan to battle it out with rivals
Sony
,
Apple
,
Phillips
, and
Samsung
against the Blu-Ray products. HD-DVD, however may have received a welcomed boost in its product by recent support from
The American Independent Media Manufacturers Association (AIMMA)
which consists of 37 influential media manufacturing companies all standing behind the HD-DVD format.
Source:
PC Pro