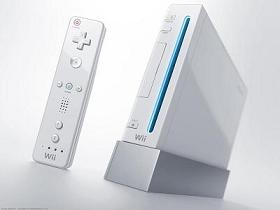 A proven Christmas smash hit,
Nintendo Wii
arrives in Europe tomorrow, December 8. The imminent success of the console is expected to continue on the European soil with pre-orders selling out in record times. The console retails for an estimated 250€ (approx. $332) and £179 (approx. $351) in the UK and includes Wii Remote and Nunchuk, Stereo AV Cable, the sensor bar, and
Wii Sports
.
In the United States Wii sold 600,000 units in its first week, in Japan 400,000 consoles changed owners the first day, and considering the fact that the pre-order at Amazon.co.uk were booked in seven minutes making it the fastest-selling pre-order ever listed, the demand will quite surely exceed the supply also in Europe. Some of the retailers will open their doors midnight tonight to cope with the customer traffic.
Nintendo tries to respond the demand by shipping more than 4 million consoles worldwide by the end of the year accompanied with 24 games plus an additional 36 Virtual Console games. The games include already hundreds and hundreds of thousands sold Nintendo title
The Legend of Zelda: Twilight Princess
as well as Red Steel and Rayman Raving Rabbids from
Ubisoft
, Call of Duty 3 from
Activision
, Super Monkey Ball Banana Blitz from
SEGA
and Need for Speed Carbon from
EA
.
For you out there who want to buy an arsenal of controllers in stock, Wii Remotes retail for 39€ (£29), Nunchuks for 19€ (£14) and Classic Controllers for 19€ (£14).
Source:
Press release