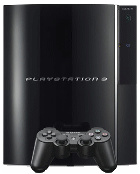 What happens when you're a game system developer and you take the most ergonomically correct controller and strip it of one of its best features, the rumble strip? What happens when you take it a step further by integrating technology previously announced by your competitor? Why, if you're
Sony
you get honored with the Technology and Engineering Emmy Award.
Sony's controller design for the
PS3
is the
Sixaxis
controller which is wireless, rumbleless and features motion sensing capabilities much akin to rival
Nintendo
in their
Wii
system. It recently was handed an Emmy award for its unique design. This comes on the eve when Sony announced it reached its goal by providing 1 million PS3 units on US shores by the end of 2006.
"
The overwhelming consumer demand and critical acclaim for PS3 is testament of the platform's strength and the industry's desire for a true next-generation entertainment system,
" stated Jack Tretton, CEO of Sony Computer Entertainment America. He went on to say, "
The full potential of this powerful machine has yet to be realized. What you've seen so far is just a taste of what will be on the table for 2007 and years to come.
"
The award was given on the basis that the controller not only introduces motion sensing in a neutral environment, but also does so with pressure sensitive buttons and triggers and dual analogue sticks. The overall design is what impressed engineers as a marvel of design. Still, I think there are some out there who will miss the rumble feature.
Update
: Apparently Sony jumped the gun in their press release full of celebration. Details, as many of you now know, are flooding the Internet stating that Sony misrepresented themselves and did not, in fact, win an emmy for the Sixaxis controller, but an overall award for best design with the Playstation controller as a whole. Nintendo also grabbed an Emmy for it's NES controller for its functionality at the time.
Source:
Gamesindustry.biz