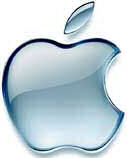 Currently at MacWord Expo, CEO of
Apple
Steve Jobs is giving his press announcement to thousands of enthusiastic Macaphiles. One announcement that made everyone stand and cheer is the official announcement of the Apple
iPhone
.
Details are extremely sketchy right now as they are literally talking about all the details as this report gets edited. From what we can tell so far, it has a fully integrated "next-gen" touchpad display that requires no stylus and claims to be the most accurate yet, named Multitouch. Additionally, the iPhone appears to run its own version of
Mac OS X
as the onboard software, giving it a rather robust choice of options in a phone. Animated desktops and menu screens, launchable applications, music playback, iPod integration, calendar and many more very useful items. There also appears to be integration of iPhoto where you can expand or minimize photos on the screen simply by pinching them in your fingers. Additionally, Steve Jobs showcased integration with Google maps to give different views of major cities as well as directions. One could surmise that this also gives the iPhone Internet access as seems to be standard fare with cellular phones these days.
Measuring only 11/16" thick and carrying a 3.5" high resolution display screen, the Apple iPhone appears to be right in between the size of a flip phone and a smartphone.
Furthermore, the device has two batteries, one for the phone functions and one that will be used for music playback, so using the audio player wont harm phone's battery life.
Now without further ado. The pictures.