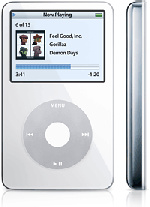 New York state Senator
Carl Kruger
has introduced legislation to ban the use of mobile phones,
iPods
and other electronic gadgets while crossing the street. The ban would see New Yorkers fined $100 per offense. It comes after a number of recent pedestrian deaths in Kruger's district, including a 23 year old who was killed after stepping out in front of traffic while using an iPod.
"We're talking about people walking sort of tuned in, in the process of being tuned in, but tuned out. Tuned out to the world around them, so they're walking into speeding cars, they're walking into buses, they're walking into one another,"
Kruger said. Of course, he is not talking about completely banning the use of electronic gadgets in public.
"If you want to listen to your iPod, sit down and listen to it,"
he said to CBS News.
"You want to walk in the park? Enjoy it. You want to jog around a jogging path? All the more power to you. But you should not be crossing streets and endangering yourself and the lives of others."
Source:
Ars Technica