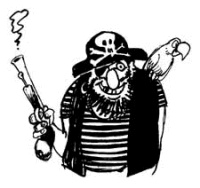 Two German defendants have admitted to selling pirate copies of movies, music and games on the Internet. The men were part of an operation,
FTPWelt.com
, which offered pirated content to paying customers through a high-speed download service. A thrid man has denied any wrongdoing. The case opened this week in the District Court of Mühlhausen in Germany.
Investigators said it was one of the biggest cases of Internet piracy and illegal copying that was ever discovered. The men grossed about €1 million from the activity. After their arrest in 2004, the state prosecutor's office of Mühlhausen in Germany also started criminal proceedings against 15,000 users of the service.
The reasoning was simple; it was evident that the customers knowingly paid for illegal content. The two brothers can now expect a maximum suspended prison sentence of 18 to 24 months.
Source:
The Register