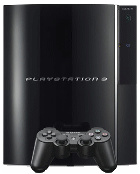 Ahead of the European launch of the
PlayStation 3 (PS3)
console in Europe, Greece has become the latest country to have a
"higher than promised"
retail price for the console. The 60GB version of the brand new
Sony
console will be sold for €659 (US$867) after the RRP was raised in the country. Even the
Sony Center
in Greece lists the 60GB version of the console for €659.
The console was expected to have a blanket price across the European countries of €499 for the 20GB model and €599 for the 60GB model. Both British and Irish gamers are also being charged more for the 60GB model; which goes for £425 (€633 / US$834) in the UK and €629 (US$827) in Ireland. The reason given for the higher price is that the territory is
"traditionally more expensive than other territories."
No Sony spokesperson commented yet on the price hike in Greece.
Source:
GamesIndustry.biz