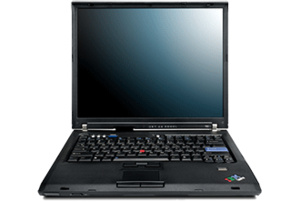 In another case of possible exploding/combustible laptop batteries, Lenovo, the Chinese laptop manufacturer, is voluntarily recalling 100,000 batteries from laptops in their IBM ThinkPad line. The certain batteries in question are manufactured by Sanyo.
The batteries being recalled are Lithium-ion batteries which are known to be very sensitive to the daily abuse a laptop sustains.
Due to the chemical sensitivity of the Lithium-ion battery, continued abuse to the battery pack itself can cause the circuitry that is designed to keep the battery safe to fail. This effect is amplified if there is a manufacturing flaw, which can cause the battery to catch on fire or even explode with continured abuse.
According to the U.S. Consumer Product Safety Commission, if the
"laptop is struck forcefully on the corner, such as from a direct fall to the ground, the battery pack can overheat and pose a fire hazard to users. This is not an internal battery cell defect."
Lenovo has additional information for all its consumers on its website, including call numbers and laptops that are impacted by this recall. Lenovo also suggests to not use the battery pack and keep your notebook on AC power.
So far there have been 4 cases of reported damage, and one person injured.
Source:
Slyck