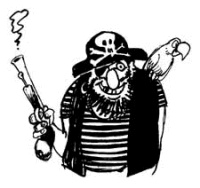 A Shanghai court ruled that the
Shanghai Le Ying AV Products Company (Shanghai Le Ying)
DVD
retail outlet, located in Shanghai's central business district, was guilty of copyright infringement for selling pirated versions of
Motion Picture Association (MPA)
member company movies. The ruling, from the Shanghai No. 1 Intermediate People's Court, was delivered on March 6th.
The court ordered the defendant to pay of damages and costs of RMB25,000 (US$3,230) to three
MPA
members. The ruling was a result of 20 civil complaints against three pirate movie retail outlets known collectively as
Ka De Club
shops, in September 2006 filed by the MPA. The rulings delivered yesterday were part of that series of complaints, and disposed of three of seven complaints against Shanghai Le Ying, a Ka De Club company.
The remaining four complaints against Shanghai Le Ying are scheduled to be heard on March 29, 2007. In seven complaints against Shanghai Le Ying, the plaintiffs asked for total compensation of over RMB1.6 million (US$206,763) in relation to the infringement of 24 movie title copyrights.
"The MPA is undeniably pleased that Shanghai Le Ying has been judged to have infringed our member companies' copyrights, and that the Court is supporting the government's effort to educate people that that there is a price to pay for copyright infringement, and that respect for copyright is important,"
said
Frank Rittman
, Vice President and Regional Legal Counsel, Asia-Pacific for the Motion Picture Association, which coordinated the lawsuit on behalf of the plaintiffs.
He added:
"However, the Shanghai Le Ying AV Products Company and its sister companies have repeatedly demonstrated contempt for China's laws through the unauthorized and unlawful sale of MPA member company movies, and we are disappointed at the paltry amounts of the awards, which amount only to a negligible cost of doing business for these criminals."
Source:
Press Release