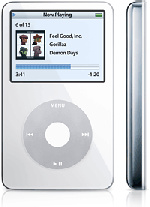 Portable consumer electronics meant for entertainment such as
Apple
's
iPod
or
Sony
's
PSP
are often used for more beneficial reasons. While Sony is currently promoting the
PSP
as a platform that can also be used in Educational settings, the English cricket team is using iPods to research techniques both used by English players and the opposition.
Hoping to help plays improve their game, coaching staff have loaded iPods with clips with techniques from the opposition and English team for players to study. The dull Caribbean wickets mean England's usual swing and seam attack must come up with new ways of getting batsmen out, such as bowling slower balls and off-cutters.
Liam Plunkett
, an English bowler, said he has been glued to the small iPod screen, hoping to come up with tactical ideas ahead of the opening Group C clash with New Zealand this Friday.
"I have to practice the next few days but it will be right for Friday,"
he told reporters.
"My swing has been taken away from me."
Source:
Reuters