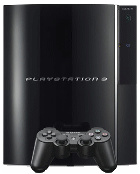 PlayStation 3 (PS3)
owners will soon be able to join a Stanford-run distributed-computing effort that researches Cancer, Parkinson's, and Alzheimer's causes (amongst other things). The
Folding@Home
project is similar to
SETI@Home
, except it studies protein folding in hopes to determine causes of various lethal conditions.
It works by using CPU cycles on a computer to complete workloads sent to it from the project's servers. When completed it sends its results back and downloads information for its next task. When you multiply participating CPUs by thousands you reach the power of super computers.
Folding@Home teams are found particularly amongst computer hardware enthusiasts like overclockers. It is for a great cause and its functionality in the PS3 could boost the project significantly.
Ken Kutaragi
actually announced that Folding@Home would be part of the PS3 at last year's Tokyo Game Show.
"Millions of users have experienced the power of PS3 entertainment. Now they can utilize that exceptional computing power to help fight diseases,"
Masayuki Chatani
, Sony Computer Entertainment's chief technical officer, said in a statement.
"In order to study protein folding, researchers need more than just one supercomputer, but the massive processing power of thousands of networked computers. Previously, PCs have been the only option for scientists, but now, they have a new, more powerful tool--[the] PS3."
See:
http://folding.stanford.edu/
Source:
GameSpot