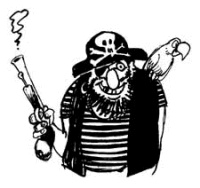 SafeMedia Corp.
, a company dedicated to helping safeguard consumers' networks from
"every risks associated with illegal file sharing of copyrighted files,"
has invented 'Clouseau', which it claims is the first system of its kind designed solely to eradicate P2P piracy.
Clouseau is a network appliance deployed on subnets that will look to stamp out all unauthorized P2P activity.
"Billions of dollars and thousands of jobs are lost to P2P piracy. Current technology is clearly ineffective at stopping it,"
claimed
Safwat Fahmy
, chief exec and founder of SafeMedia.
"Clouseau is the best-of-breed internet piracy prevention solution designed from the ground up specifically to stop all P2P internet piracy no matter where it originates worldwide,"
Fahmy continued.
"It is safe and invisible, causes little or no latency in the network, self-healing and user-friendly, and completely shields user anonymity."
The device, claim SafeMedia, uses fingerprinting and DNA markers which monitor incoming and outgoing packets so that illegal P2P is snuffed out while allowing legal P2P to pass through to its destination without any noticeable delay.
"We have made Clouseau dynamically proactive, safe and hardened. Pirates are smart and innovative, and so is Clouseau,"
added Fahmy.
"Our technology is dynamic, sees through all multi-layered encryptions, adaptively analyses network patterns and constantly updates itself. Packet examinations are non-invasive and infallible. There are no false positives."
Source:
PC Authority