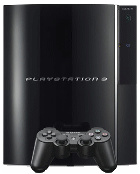 According to
Screen Digest
,
Sony
is set to sell 4 million
PlayStation 3 (PS3)
units in Europe in 2007. Analyst
Nick Parker
, told the
Times Online
that plentiful stocks of the console could not be seen to indicate poor sales performance.
"The lack of shortage is supply driven; what Sony has shipped will sell,"
he said.
"We estimate that Sony will sell around 4 million units in Europe this year, with 1 to 1.5 million in the UK."
He said that PS3 could overtake
Wii
in the sales stakes next year, if not by the end of 2007. He also claimed that
Microsoft
's
Xbox 360
is showing signs that its demand has peaked, with sales being only 1% higher than the same time last year. The PS3 will go on sale in Europe on March 23rd for €599 (£425).
Source:
GamesIndustry.biz