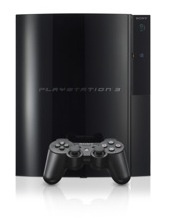 Sony
has announced firmware upgrade for the launch of
PlayStation 3
in Europe. The v1.60 firmware features patches for backwards compatibility, Folding@home connectivity, background downloading and internet browsing. The company also launched the PS3
Compatibility Site
that lists
PS2
games playable with the new European hardware PS3 model.
The firmware upgrade will be available at midnight on March 22 via PlayStation Network,
http://www.PlayStation.com
, or for those without access to the internet, on a disc from local customer service.
The version 1.60 features support for Bluetooth keyboards and mice, and an additional QWERTY on-screen keyboard, as well as background downloading for up to six items simultaneously.
Folding@home
feature allows PS3 owners to sign up to Stanford University's program by clicking the logo on the
XMB
(XrossMediaBar), and contribute while the console is in idle mode.
"Stanford University's Folding@home program, a distributed computing project aimed at understanding protein folding, misfolding, and related diseases, such as Alzheimer's, Parkinson's, and many cancers. Using the power of the Cell Broadband Engine™, PS3 system can perform computer simulations for the Folding@home program ten times faster than your average home PC."
Source:
Press release