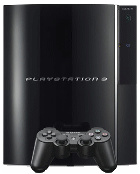 Sony
has given a great surprise to those waiting to buy a
PlayStation 3 (PS3)
console in London; a 46" LCD
HDTV
television set and a free ride home. The giveaway involved more than 100 gamers and cost about £250,000.
"I feel fantastic. I'm delighted that everyone here also gets a television."
17-year-old
Ritatsu Thomas
, the customer at the head of the queue, said.
The PS3 costs £425 in the UK and its game line-up is starting to improve. It includes a
Blu-ray
drive for games and for movies and a powerful
Cell
processor. The launch in the UK and the rest of Europe was delayed by four months due to production problems. Australian gamers are also able to get their hands on a PS3 now.
Ray Maguire
, head of Sony Computer Entertainment in the UK, said that the TV giveaway at the London event was a reward for the patience of the gamers. Say what you want about the £425 price tag for the PS3, but if you are one of the lucky people who also got a free LCD TV, then you got a bargain!
Source:
BBC News