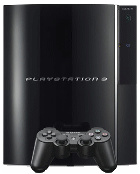 Sony Corp.'s
PlayStation 3 (PS3)
console has launched in Europe and Australia today, March 23rd 2007. The latest installment of the PlayStation franchise launched in both the North America and Japan in November 2006, but production problems led to an additional four month delay for
PAL
territories. The PS3 console is a powerful gaming console/home entertainment device/computer, striving to be the most powerful gaming console of the generation when pitted against
Nintendo
's
Wii
and
Microsoft
's
Xbox 360
.
While being last to the starting line, at least in Europe, the PS3 still has received phenomenal demand according to retailers, despite also being the most expensive console. It costs AUD$999 in Australia and the price in Europe is set at €599 but varies in many countries (€629 in Ireland, £425 in UK etc.). Another notable difference between the launch in PAL territories and the launch in
NTSC
territories is the absence of a 20GB model in Europe and Australia. Only the more expensive 60GB model is available for the launch.
The unit includes a high definition
Blu-ray
disc player, a feature that has helped to ensure strong movie studio support for the Blu-ray format. Its latest
firmware
update also adds support for the Stanford
Folding@Home
project, which simulates protein folding in an attempt to determine causes of many diseases. The project could get a significant boost from PS3 users if they choose to leave their console work on tasks while idle and connected to the Internet.
See: PS3 1.6 update adds Folding@Home
Later this year, PS3 owners will also be treated to
Sony's upcoming PlayStation Home virtual world
that brings social networking to the console. The selection of games is also growing fast and Sony has lately re-assured gamers that the new units will support over 1,000 PS2 games. The units sold in North America and Japan include hardware (emotion engine) for backwards-compatibly support for older PlayStation titles. To help reduce production costs, this was removed from the units that have shipped to PAL territories and replaced with software emulation.
See: PlayStation Home details and screenshots & Sony lists PS3-compatible older titles
In Australia, more than 500 retailers opened their doors in the early hours of the day to greet customers. Retailer
Myer
at Sydney's Pitt Street mall screened
Casino Royale
for gamers waiting to buy the console. Free popcorn and ice cream was handed out to customers. In the UK,
HMV
has teamed up with
SEGA
for the launch, with the first 150 customers receiving a free copy of
Virtua Tennis
. The store will host demos of the game and other promotion activities as the day progresses, starting 7:30am.
See: HMV teams up with SEGA for UK PS3 launch
Many retailer stores in the UK have opted for a midnight launch but Police have voiced their concerns about the safety of customers buying PS3 consoles during the late hours. This launch in Europe and Australia means the console war is now fully started, as Nintendo, Microsoft and Sony will compare hardware and software sales and keep up strong promotion to dominate the multi-billion worldwide video game market.