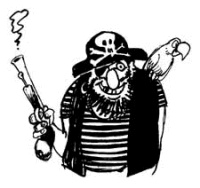 Officials in Malaysia reported today that Malaysian movie pirates have placed a bounty on the heads of the two sniffer dogs who helped bust an illegal fake DVD ring with a seizure of $3 million USD worth of discs.
"Lucky and Flo, two female black Labradors deployed by Malaysian authorities in their crackdown on pirated movie DVDs and music CDs, carried out their first major successful operation in Johor state on Tuesday."
Syndicate bosses have now offered a reward for the killing of the two dogs.
An official for the
MPAA
had this to say:
"As a result of the extent of loss to the pirate syndicate, we have information from the domestic trade ministry that the Johor syndicate is intent on killing Lucky and Flo...The Malaysian authorities are taking this threat seriously and the security around the dogs' current location has been beefed up."
During Tuesday's succesful raid in the southern city of Johor Baru, 6 people were arrested and the dogs helped to seize about a million pirated games and movies.
Replicating machines, the DVD's and many other tools used to create and distribute the discs were found hidden in concealed spaces and hidden compartments spread out over four floors of an office building.
Malaysia, who is in negotiations for a free-trade pact with the US has stepped up its handling of piracy recently.
Source:
Cnet