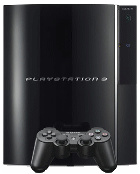 While
Sony
has stated that it will take years for game developers to really utilize the
PlayStation 3 (PS3)
's potential with software,
Folding@Home
, which is a feature added with the 1.6 update, is giving some indication of the PS3s sheer power. According to the
Stanford
project's latest statistics, the PS3 is leading all other platforms.
The statistics are sorted by operating system and show that the PS3, at the time of writing, has 516 current TFLOPS, very far ahead of the windows users that come in at 152, despite having thousands and thousands more active CPUs. Another statistic worth mentioning is for
ATI GPU
s, which currently sits at 41 TFLOPS with just 708 active CPUs. The PS3 currently shows 21062 active CPUs.
This is an incredible boost for the project and we can only hope that it will continue to grow. Here are the statistics at time of writing.
| | | | |
| --- | --- | --- | --- |
| OS Type | Current TFLOPS | Active CPUs | Total CPUs |
| Windows | 152 | 159564 | 1625622 |
| Mac OS X/PowerPC | 7 | 8737 | 95371 |
| Mac OS X/Intel | 9 | 2756 | 7272 |
| Linux | 43 | 25126 | 215901 |
| GPU | 42 | 708 | 2199 |
| PLAYSTATION®3 | 516 | 21062 | 22299 |
| Total | 769 | 217953 | 1968664 |
Source:
Folding@Home