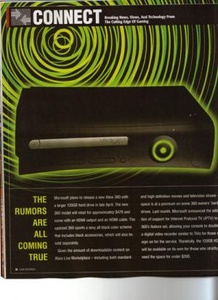 In a small update to a recent
article
, many news outlets are reporting that
Microsoft
does indeed plan to release the black
Xbox 360 Elite
console which will include an HDMI connector,
IPTV capabilities
, and a 120GB hard drive for a decent $479 USD price tag.
The new 360 would have an updated motherboard as well which would incorporate the new 65 nanometer technologies. By updating the motherboard, Microsoft can cut down on manufacturing costs. This leads to speculation of a price cut for the holidays which would put extreme pressure on the 360's console rivals
Wii
and
PlayStation 3
.
Analysts believe that even if there is no price cut, the addition of IPTV will give the 360 an edge over its competition which lacks the technology.
Source:
BetaNews