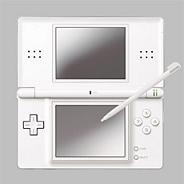 According to new statistics from Chart-Track, it appears that there are now over 3 million
Nintendo DS
or
DS Lite
owners in the UK.
Nintendo had this to say in a statement:
"DS was the best-selling platform during 2006 and has already established itself as the UK market leading hardware format again so far in 2007".
The DS is also handily winning its battle against
Sony's PSP
, securing an overwhelming 68 percent market share in the UK for the first quarter of this year.
Nintendo attributed their success to the great sales of games such as Brain Training, Nintendogs, and Tetris, all of which are designed to bring in audiences of all ages.
"It's a great testament to the strength of the DS hardware and software range available that just as Nintendo DS has passed its second birthday here in the UK, it reaches such a landmark sales figure,"
said Nintendo UK boss David Yarnton.
"With many more Touch! Generations games launching in 2007, Nintendo DS and Wii will continue to be the main driving forces behind the expansion of the videogame market this year."
The original DS went on sale in the UK in March 2005 and the DS Lite launched in June of 2006. Currently the DS Lite can be purchased for 145 EUR retail.
Source:
Gamesindustry.biz