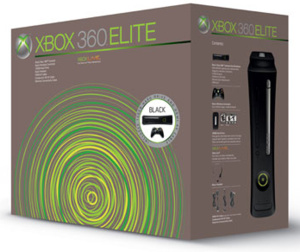 Microsoft
has finally put all the rumors to rest by officially announcing the black Xbox 360 Elite.
The new 360 will go on sale in the US on April 29th with the retail price of $479 USD.

The new additions are as follows:

- An all black finish with matching accesories such as wireless controllers.

- IPTV capability

- HDMI output

- Detachable 120GB HDD (The HDD is also available seperately for $180 USD)

- A data transfer cable which will allow users to copy game saves, and other content from their other 360 HDD.

Those that buy the new 360 will also get a free Xbox Live Silver Membership and 1 month free Gold Membership.

Note: As many of our Afterdawn readers have noted in past news articles, the new 360 will have the same 90 nm chipset that run in the current 360s. Officials say the new chipset will be available in Premiumm Xbox 360s in the fall.