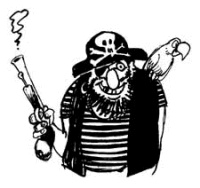 In an update to our previous article here in which Malaysian pirates put out a bounty on
MPAA sniffer dogs
, the dogs have gone into hiding and Malaysian pirates have begun using a chemical spray on their pirated discs to mask the smell.
Lucky and Flo, the two sniffer dogs, have been moved from safe house to safe house in an effort to spare them from Malaysian bounty hunters.
The two labradors have been trained to detect the polycarbonate chemicals used in manufacturing DVDs, but Fahmi Kassim, a Malaysian official, has said that officials received a lead that pirates are now using chemical sprays to mask the scent.

"The pirates are believed to be desperate because the dogs were so successful,"
Fahmi told The Associated Press.
The dogs are on loan from the MPAA so how long they will have to remain in hiding before they are shipped back to the US is still in question.
Source:
Zeropaid