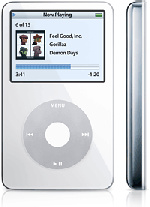 Apple
's
iPod
has had a history of significant improvement by model since it was originally released, helping it to become the most popular
MP3
player in the world, selling over 100 million units. Therefore, rumors and speculations about upcoming iPod improvements are constantly doing the rounds, and it has been wondered by many when exactly Apple Inc. will add WiFi support to an upcoming iPod.
Well, if you were to believe the latest whispers about the gadget, Apple will release an iPod this year that features WiFi, according to component makers in Taiwan.
Universal Scientific Industrial (USI)
has been named as a supplier for the WiFi technology, while
Foxconn
is expected to produce the finished units.
Adding WiFi to an iPod could allow communicating with iTunes without the need for a USB cable to transfer music to the device and perhaps streaming audio and video content. Of course, these rumors are often completely wrong too, but it would make sense for Apple to try to improve upon
Zune
's wireless support.
Source:
Pocket-Lint.co.uk