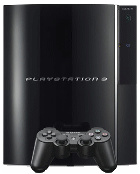 Playing down concerns of underachieving sales figures,
Sony America
president Jack Tretton has confirmed that the company has long term plans for the
PlayStation 3
, at least for the next decade.
"We didn't get into PS3 for the first six months of 2007 - we're into this for the next 10 years and beyond," said Tretton.


"A million units one way or another at this point isn't going to worry us."
In agreement with Tretton's argument was IDC analyst Billy Pidgeon.
"The PS3 is ahead of the market, while the Xbox 360 and the Wii were designed for immediate market impact,"
he said.
Pidgeon also said he expected sales of the PS3 to increase during 2008.
However, Kyoshi Shin of Japan's International Game Developers' Association, did not agree and implied that many developers were changing their focus to the rival
Nintendo Wii
.


"When people talk about the PS3 on chat forums, they say it's like going to a very expensive restaurant and not getting anything to eat,"
he added.
Source:
GI.biz