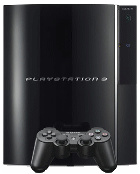 For months we have heard rumors about larger capacity
PlayStation 3s
hitting shelves, but yesterday, a
Sony
spokesperson made it clear that an 80 GB model would be released in South Korea but that the company had no plans of releasing an 80 GB model in Europe.
The new model will be released in Korea on June 16th with a price tag of EUR $412/$550 USD.
The same spokesperson also confirmed that there was no plans to release the 20 or 60 GB models in Korea and that there were no plans for a European launch of the larger capacity units and that a North American launch hadnt been talked about.
"At this moment in time, there are no plans to introduce the 80GB version of PlayStation 3 in Europe."
he added.
Those that recall, the rumors began a couple months ago when an FCC filing showed Sony asking for a Class II permissive change. The Sony spokesperson confirmed that the larger HDD was the only thing changed from past units, squashing rumors that the Bluetooth features had been updated.
Source:
GI.biz