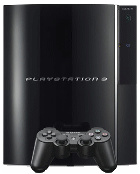 Sony
has revealed that a version of its
PlayStation 3 (PS3)
console with an 80GB hard disk drive will go on sale in South Korea on June 16th. The model will come with a price tag of 518,000 won ($556). Two other versions of the PS3 have been sold, one with a 20GB HDD and one with a 60GB HDD. In Europe, only the 60GB model is available and Sony will discontinue sales of 20GB models in North America.
The PlayStation 3 is Sony's weapon in the console war with
Nintendo
(Wii) and
Microsoft
(Xbox 360). The three companies are battling for dominance in the $30 billion global video game industry and all have touted their strengths but can't keep their weaknesses off the blogs.
Sony has also said that it will release the 80GB version of the console in other territories if there is sufficient demand for it. The extra storage capacity is offered in South Korea due to high interest in online games in the country.
Source:
Yahoo