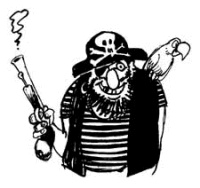 In the search for an illegal
BitTorrent P2P
network that spanned most of Germany, German authorities this week were finally able to obtain evidence that concentrates on a 38 yr old suspect from Baden-Württemberg.
The suspect had come to the attention of the authorities before but officials say now he is strongly suspected of illegally distributing unauthorized movies and games via the network.
The official investigation began in March after the
German Federation against Copyright Theft (GVU)
informed authorities that a computer game had been made available on the Internet prior to its official release date.
According to the Public Prosecutor's Office, this week the suspect's home was raided and raids occured in other sites in Baden-Württemberg, Bavaria, Berlin, Saxony-Anhalt and Thuringia.
So far, authorities indicate that the group of file sharers, including the lead suspect, ran the network on a few rented computers in which they illegally uploaded unathorized computer games and movies. Authorities also indicated that the investigaton was not over and they are searching for the rest of the group. If charged the suspect will face copyright violations charges as well as civil lawsuit from the copyright holders.
Source:
Heise Online