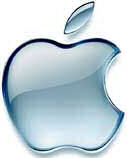 Apple Inc.
and
Google Inc.
have worked together again to bring videos from the mega-popular
YouTube
to the TV screen via
Apple TV
. By mid-June, thousands of the most popular videos on the service will be viewable through an Apple TV device over a wireless network. The full archive of videos on YouTube will be available later in the year, according to Apple.
Of course, this sounds alarm bells for Apple becoming involved in copyright infringement problems currently being experienced by YouTube.
Viacom Inc.
, which is currently suing Google/YouTube for $1 billion, said it would consider licensing its content to Apple.
"We're always vigilant about protecting our copyrights. But we would welcome the opportunity to license our content to Apple as we do with all distributors,"
a Viacom spokesman said.
Apple TV will allow users to sign into their YouTube accounts to search and save videos. Apple will also start selling a new model of its Apple TV, with a 160GB hard disk drive, advertised as capable of storing 200 hours of video, 36,000 songs or 25,000 photos. An Apple TV costs $299. The larger model will cost $399, and will be available on Thursday.
Source:
Reuters