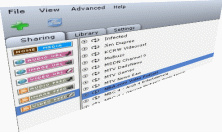 An update has been released for
TVersity
, the software which allows you to share (and transcode on-the-fly if necessary) multimedia content between your PC and many home devices including a
PlayStation Portable
,
Wii
,
PlayStation 3
or
Xbox 360
. The update supports the
Sony PS3 firmware 1.8 update
. Internet Radio now works with the PS3 and problems with green bars and distorted colours have been fixed.
For the Xbox 360, TVersity can now produce WMV7 or WMV8 or WMV9 or MSMPEG4V3 (have to edit the wmProfile variable in config.xml to one of wmv7, wmv8, wmv9, mp43). You can also now choose between
transcoding
to
WMV
using
DirectShow
or ffmpeg. For now, only producing WMV8 can be done with the ffmpeg option. There have also been some improvements while used with a Wii and more general bug fixes.
Here is the changelog...
Support the Sony PS3 firmware 1.8 - From firmware 1.8 there is no need to use the Adobe Flash interface for the PS3 (it is still the only way to stream media to the Nintendo Wii). You can now access your entire audio, photo and video collection from the PS3 Dashboard, including Internet Radio/TV, RSS feeds and more. The changes from the previously released patch are:

Internet radio now works on the PS3. First playback attempt is likely to fail with an "Access to the media server has been denied" message (or "unsupported data" message), this is because the PS3 does not wait long enough for the data to be fetched over the Internet. After this failure, wait a few seconds and try playing this same station again. Assuming a connection to that station was possible, there won't be an error message, however the actual playback may take up to two minutes and more to start since the PS3 requires about 1 MB of data before it initiates playback.

Internet video and transcoded content starts playing faster than it used to (saving about 5 seconds).

Library refresh is now reflected on the PS3 and on any other device that checks the media server for updates (leaving a folder that has updates and then going back to it is required in order to see the changes).

When moving from one Internet video to another, previously the older video was not always terminated, this is now fixed.

Issues with green bars or distorted colors when playing via PS3 were resolved.

The TVersity icon is now shown by the Ps3.

Support the Xbox 360 spring update This includes hierarchical video browsing and native playback of MPEG4 (including H.264 and AAC). Changes from the previously released patch are:

TVersity can now produce WMV7 or WMV8 or WMV9 or MSMPEG4V3 once can switch between them by seting the wmProfile variable in config.xml to one of wmv7, wmv8, wmv9, mp43.

TVersity can now Encode to WMV in two methods, the first is via directshow (which always existed and still is the default) and the second is via ffmpeg. While for now only wmv8 can be produced via ffmpeg, it is slightly faster than directshow and hence it may prove beneficial in certain cases.

Conversion to WMV of MJPEG with mono audio no longer fails.

Improved Adobe flash library interface (for Nintendo Wii or any web browser with support for Flash 7 or higher)

Solve the occasional interface locks during browsing.

Add a download button that is more accessible and does not require any menu selection, but rather considers the currently selected profile.

More reliably termintate previously played Internet streamed when moving to new ones.

Stop playing current media when the GUI is minimized to the tray icon.

Other fixes and improvements

Reading tags from AVI files is now turned off by default. It can be turned on by setting the readAVITags variable in config.xml.

The TVersity service is now starting more reliably during a reboot, waiting, if necessary, for the networking to finish initializing, instead of quitting if it is not already initialized when Tversity is started.

Correctly detect some cases where transcoding is not needed, and were mistakenly transcoded in the past.

Do not block every URL with two consecutive dot characters, but rather check if the canonical path is shared or not and based on this determine if to allow ot deny access to it. This solves some playlist related playback issues.

The device selection menu in the settings tab of the GUI, has now a scrollbar.

Fix image browsing for the DirectTV HR20.

Faster response time when searching the media library.

Fixed some crashes during library refresh.
Download TVersity v0.9.10.3 from:
http://www.afterdawn.com/software/video_software/video_tools/tversity.cfm

Read a guide to stream to Xbox 360 without media center:
http://www.afterdawn.com/guides/archive/stream_video_xbox_360_tversity.cfm