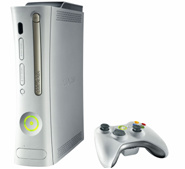 We reported back in April that a Dutch TV show,
Kassa
, had done a show about
Microsoft
's
Xbox 360
console scratching discs under normal use. It blamed the problem on a
TSST
DVD-ROM drive that is missing parts that stabilize the disc.
Maglena Kunevam
, the
European Commissioner for Consumer Affairs
, confirmed that she has contacted Microsoft about the problem and expects an answer fast.
She has asked Microsoft to explain how it has handled the problem specifically in the Netherlands, but also wants to know how big this problem is in other regions. There has been about 1,000 reported complaints in the Netherlands about this problem. Kunevam said that she expects a full response from Microsoft within a week.
Source:
Vara (Dutch)
---
| | |
| --- | --- |
| More Recent Gaming News | Date |
| HMV sees strong sales for Next-gen consoles, games | June 01, 2007 |
| Wii Virtual Console to reach 100 game milestone | June 01, 2007 |
| Video game helps 12 year old in Cancer battle | June 01, 2007 |
| Doom and Quake creator working on new franchise | June 01, 2007 |
| Australia gets Xbox 360 Elite accessories | June 01, 2007 |
| Price confirmed for GTA IV: Special Edition in Australia | June 01, 2007 |
| FIFA 08 producer talks football games | June 01, 2007 |
| Australia gets Xbox 360 Forza 2 bundle | June 01, 2007 |
| Five million DS gamers play online with Wi-Fi Connection | June 01, 2007 |
| Bungie will make graphical improvements to Halo 3 | June 01, 2007 |
| Metal Gear Solid 4 heading to Xbox 360? | June 01, 2007 |
| Lite-On IT lands orders for Xbox 360 DVD-ROM drives | June 01, 2007 |
| PSP gets 3.50 update | June 01, 2007 |
| New York targets violent video games | June 01, 2007 |
---
Provided by Blasteroids.com. Subscribe to Blasteroids RSS feeds and get feeds of the latest news, games, demos, trailers, screenshots and more. Never used RSS? It's time you discovered how RSS feeds can make your web experience better! Read This Guide!

Blasteroids RSS Link:
http://rss.blasteroids.com/blasteroids_news_and_files.cfm