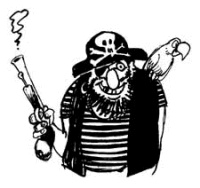 On Friday, Canada introduced a legislation that would criminalize camcording of films in theaters and make the crime punishable by up to five years in prison.
Recently, Japan introduced a similar legislation and Mexico and the US have had legislations in place for a while. The
MPAA
and other groups estimate that piracy cost the movie industry $6 billion USD per year worldwide and recently Candada has been called a "haven for piracy".


"I don't want this problem of piracy to be seen as an American problem,"
said Kevin Tierney, producer of the Canadian film "Bon Cop, Bad Cop," who admitted that his movie had been bootlegged worldwide,
"This is stealing."
Until Friday, it had only been illegal in Canada to camcord a movie if it was meant for commercial use. Authorities however, have had a terrible time enforcing that rule, as it is almost impossible to prove such recordings were done for commercial distribution.
Now, if you are caught recording the film, you can face up to 2 years in prison, and face 5 years if convicted of doing so for commercial distribution.
Source:
Reuters