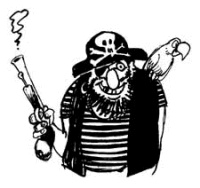 A Chicago man has been charged for uploading copies of the hit TV show,
24
, to a website before they aired on television. Federal authorities have charged
Jorge Romero
, 24, with copyright violations for illegally distributing episodes of
Fox
's show. He had downloaded leaked episodes of 24 and then uploaded them to
LiveDigital.com
, according to a federal complaint filed in Los Angeles on Friday.
The four episodes were from the sixth season of 24 and were uploaded more than a week before they were to be aired on TV. Romero was charged with one felony count of uploading copyrighted material to a publicly accessible computer network knowing the work was intended for commercial distribution.
If convicted, he could be looking at up to three years in prison.
Source:
Yahoo (AP)