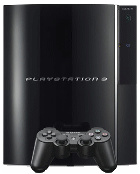 Sony
confirmed today their
PlayStation 3
console had reached the 1 million units sold milestone for Europe and Australia.
According to Sony Europe, the milestone was hit in just under 10 weeks, a timeframe quicker than its predecessors the
PlayStation
and
PlayStation 2
.
The PS3 was released in Japan in November 2006 but sales have been sluggish in the region. According to the data collector Media Create, only 910,000 units have been sold since then.
Data from NPD in North America showed that 1.3 million units had been sold so far in the region since its release late last year.
Source:
GI.biz