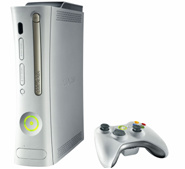 Looking at a market analysis and seeing how well rival
Nintendo
is doing with its $250
Wii
, the people over at
Microsoft
have started to turn around the ideas that they need a $199US console on the market. Thats what product manager
David Hufford
has hinted at. Hufford stated that he believes the $199 price point is the sweet spot in the console market and even stated that Nintendo's strategy of bundling a game with the console is a fine idea.
Microsoft comments that its fully aware that
Sony
's
PS2
is still selling strong at its $129 price point and was a good deal since mid-2002 when it was reduced to $199 just after 2 years on the market. Sony boasts some 120 million PS2s shipped with a majority of them being sold post-2002.
Microsoft claims that even though they already take a hefty loss per console sold, that its ready to take an even bigger hit to have the opportunity to sell more units. They believe in their product and feel that the sell of games will make up for the loss in the cost of console production. Hufford also was heard at hinting of emulating Nintendo's sales tactic and could possibly include a pack-in game to coincide with the price drop.
Source:
ITWire