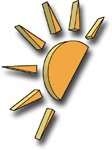 Wow, yet another year has passed and our little website is having its birthday again, for the 8th time. Yes, that is correct. Exactly eight years ago our site was officially launched.
I've written these "birthday journals" year after year and it always gives me an opportunity to take a look in the past and analyze what we, as a company and a site, have achieved during the past year or so.
As most of our readers know, year 2006 was rather bad for us as a site, as our home country, Finland, adopted the EU copyright directive to its legislation, forcing us to remove tons of content from our site. Since then, we've tried to "reinvent" our site slightly, tried to figure out what bits and pieces our site is currently missing that would benefit our users. That led us to launch an "innovation contest" last year where we asked our users to tell us what they'd want to see on our site in future. We got hundreds of suggestions and have tried to go through that list, tried to put all the ideas into larger picture and to build a framework where we want to take our site in the future. One of the most visible changes sparked by the innovation contest feedback was the
redesign of our homepage
last autumn.
To answer to many of our users' pleas, we strengthened our English content team since last birthday with two new members --
vurbal
and
DVDBack23
-- and also hired a new content writer,
malagant
, to join our Finnish news team. With these new people on board, we've managed to push our news output to completely new level where we can honestly say that we cover very big part of the news in our own "niche" nowadays.
Furthermore, discussion topics about multimedia devices and hardware products became increasingly popular on our forums and to assist people to make "educated" purchases, we launched a completely new
hardware section
a couple of days ago to have people's reviews, product prices and tech details nicely under one umbrella.
In these birthday journals, I've always shared some of our internal stats as well. So, here's something for you guys who love all kind of statistics:
In January, 2007 we broke our previous traffic record with 33 million page impressions in that month alone.
Our users have posted 2,226,551 messages to our English discussion forums (and further 705,160 messages to our Finnish forums)
Our users have downloaded 82,493,746 software items from our software section.
We have 660,097 registered members (who have activated their accounts).
But basically I simply wanted to post this news article to thank all of our staff members, moderators and you, our users for helping us to survive for whole eight years in this ever-changing dotcom world. Thanks.
On behalf of AfterDawn Ltd,

-Petteri "dRD" Pyyny, webmaster