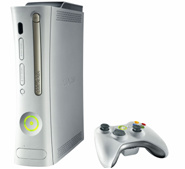 Microsoft Corp.
has revealed that it has no plans to respond to
Sony
's
PlayStation 3 (PS3)
price cut with cuts for its
Xbox 360
console. Ever since Sony dropped $100 from the price of the 60GB version of the PS3 in the United States on Monday, rumors have been rampant that Microsoft will follow suit and drop its own console prices. The new $500 price for the PS3 is just $20 more than the Xbox 360 Elite price.
However, Microsoft won't reduce prices because it firmly believes there is no need to. The company is confident in the line-up of Xbox 360 game titles compared to the line-up for the PS3 for the rest of the year, and believes consumers have more incentive to buy an Xbox 360 from the games coming for the platform.
"We have no desire, no need, to react to anything the competition has done,"
Shane Kim
, head of Microsoft Games Studios.
"We feel really great about the Xbox 360 momentum right now. Customers are voting with their wallets, it's not just about console units. We feel great about how we're doing."
He denied that the defiance to lower prices for now is related to the company's intention to make the Xbox business profitable in its 2008 fiscal year.
"It's really not about meeting the profitability goals. We feel very confident that we'll meet the profit goals with our strategy that is already in place,"
Kim said.
He pointed to forthcoming hit titles like
Halo 3
,
Grand Theft Auto 4
and
Madden NLF 08
(both of which will be available for both Xbox 360 and PS3) as the reason why Microsoft is confident that the available games will be incentive to outperform its rival in hardware sales. The company ill offer a Halo 3 edition of the Xbox 360 console.
"This year, that perfect storm arrives again,"
Kim said.
"And the Xbox 360 is the only platform you'll be able to play all three of those titles on."
Source:
Reuters