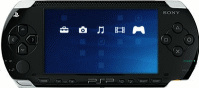 The new slim and lite version of
Sony
's
PlayStation Portable (PSP)
handheld console is set to roll out in the UK, but with two new features being absent. Of course, the
P2P
is still slimmer than the original PSP, but when it launches in shops on September 14th, its video output capabilities will be temporarily useless. While the PSP will be technically able to connect to a TV, the cables that make it possible will be absent.
The new version of the PSP addresses demand from owners who would like to watch their games and movies on a TV instead of the small PSP screen. PSP gaming on a TV, connected up with a special cable, was demonstrated at
E3
this year and is probably the most wanted new feature. However, the cable won't be available in the UK on launch day and there are no indications as to when it will be, a spokesman for national retail chain
GAME
told
GamesRadar
.
Additionally, onbly the black model of the slimmer PSP will be available, while the new colours, ceramic white and ice silver, will not initially be available either. There is no doubt that British PSP fans will be hoping these reports are inaccurate or there has been a big mix up somewhere.
Source:
Pocket-Lint.co.uk