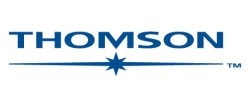 French company
Thomson
acquired Anaheim California's
SynCast Corporation
- a distributor of online movies and music - in an effort to become a major player in the world of online media.
Thomson
is trying to take advantage of the increased digitization of traditional film processes, all the way from pre-production to digital delivery. The company would like to make their
Technicolor
division, best known for their pioneering work on the color film format bearing the same name, into a giant in the digital video world.
For two decades, starting in the mid-1930s, the Technicolor process was the standard for color film, but their current business model is built increasingly around helping filmmakers solve problems with digital solutions. They already have many production and (digital) theatrical distribution services, so getting into the world of online distribution seems like a logical move.
The new system, which officially begins today,
"allows studios to distribute their content faster,"
says Chris Carey, chief technology officer at
Technicolor
. Acquiring
SyncCast
which delivers content on behalf of online retailers such as
Microsoft's
Xbox Live Video Marketplace, will help
Technicolor
bolster its offerings in consumer-targeted businesses.
Source:
The Wall Street Journal