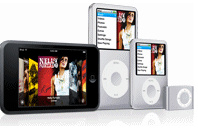 According to news site
iLounge
,
Apple Inc.
's new
iPod Classic
and
iPod Nano
players will require new accessories for TV-Out functions. According to the site, when a new iPod is connected to an older dock, the TV-Out option in the
Video Settings
menu is disabled. Of course, you can still watch video stored on the iPods on its small screens, this only affects connecting it to a TV for a larger view.
According to the site, the new iPods include
"authentication chips"
which will also be in many third-party devices for the iPods. It is this extra equipment that apparently blocks the TV-Out functionality of newer iPods with older docks. Apple's website states that both the new iPod models can use TV-Out with Apple's
Universal Dock
.
"Use the Apple Component AV Cable, the Apple Composite AV Cable, or the Apple AV Connection Kit. Other similar RCA-type cables might not work,"
the manual for the iPod Classic reads. If true, then many iPod owners planning to upgrade their iPods this holiday won't be very pleased.
Source:
Reg Hardware