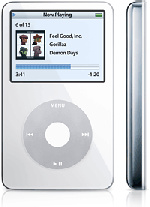 After a recent meeting between Steve Jobs of
Apple
and Martin Winterkorn, CEO of
Volkswagen
, rumors have been circulating that the two companies are working on a so-called iCar that would include some kind of built in iPod media player.
Although the growing market for automotive entertainment devices is expected to be a $50 billion dollar industry by the year 2012, a partnership between the two companies might not make as much sense as it appears on the surface.
In addition to the much longer development cycle for cars vs. iPods, there are many fundamental issues that would need to be addressed for such an arranement to be workable. The automotive industry is a much more traditional business than either computers or consumer electronics. Innovation isn't generally considered as importance as reliability and tradition - values that leave a company like
Apple
defenseless against their competition. On a related note, unless upgrades were reasonably easy, car buyers could be left with obsolete iPods in their cars for most of the time they're being driven - not particularly helpful for resale value.
Another potential issue is the warranty. Standard automotive warranties run many times the expected life of an iPod, and it could end up being very costly for
Apple
.
Right now the entire idea is purely speculative, but it does raise an interesting question about the future of consumer electronics in the automotive industry. As portable players become more prevalent, the challenge will be to take advantage of their popularity without succumbing to their many limitations.
Source:
PC World