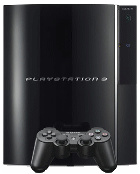 According to the newspaper
Les Echos
,
Sony Computer Entertainment Europe (SCEE)
will announce lower prices for the
PlayStation 3 (PS3)
home entertainment console ahead of the holiday season, in an effort to boost sales. The report claimed that the company will offer price drops between €100 and €200, although the latter rate more-so refers to the availability of the 40GB PS3 model, which would sell for €399.
The 60GB version of the PS3 console, the most expensive in the territory, would see a price cut of up to €100, according to the report. A Sony spokesman declined to confirm the price cut details from the report, but did say that an important announcement for Europe was
"imminent."
In the United States, Sony replaced the 60GB PS3 model with an 80GB model (with some extra upgrades) for the same price. The company is hoping to offer a more attractive price tag for consumers over the holiday season to ramp up competition with
Microsoft
's
Xbox 360
and
Nintendo
's market-leading
Wii
console.
Source:
Google (AFP)