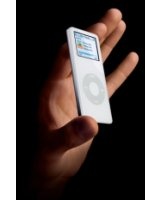 Danny Williams
, an employee of Hartsfield-Jackson Atlanta International Airport, recently was reminded that even the smallest of consumer electronics gear can be dangerous in its own way when his two year old
iPod Nano
caught fire in his pants pocket. According to his mother, speaking in a telephone interview, the fire lasted about 15 seconds and the flames reached up to his chest.
Apple Inc.
has not commented on the incident, but has reportedly sent a package to Danny to return the damaged iPod Nano. Local news reported that Danny may have been saved from serious burns by glossy paper he had in his pocket. However, considering the fears of the times, and his place of employment, he doesn't seem to really think the threat to him was the flames themselves, but rather what they looked like at the time.
"If TSA had come by and seen me smoking, they could have honestly thought I was a terrorist,"
local news quoted the man as saying. The device contains a lithium-ion battery, which has a history of nasty events in consumer and PC products. Last year, several manufacturers, including Apple,
Dell
and
Lenovo
were forced to recall millions of the batteries. They have been blamed for meltdowns and fires in several computers.
Source:
PC World