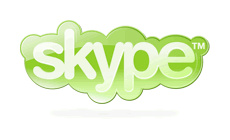 The UK-based mobile phone carrier 3 has introduced the
Skypephone
, the UK's first phone designed around Skype's free peer-to-peer telephone service.
The handset will be available in a variety of colors, offer a 2MP camera, an internal MP3 player, Bluetooth, and Mobile TV and internet functions on Qualcomm, Skype and 3's networks.
Using the "Skype button" a user can "voice connect to any of the service's 246 million registered users for free." You can store usernames to the phone book and they will act as another phone number that can be connected to. The Skypephone can also engage in Skype chat as well as send SMS and MMS messages.
The Skypephone will retail for £49.99 as a pay-as-you-go phone or free with an 18-month contract. It is set to hit UK retailers on November 2nd with availabilty in Australia, Austria, Denmark, Hong Kong, Italy, Ireland, Macau, and Sweden coming before the end of the year.
Source:
BetaNews