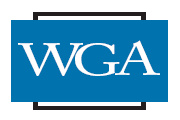 This morning, the
Writers Guild of America
formally went on strike after negotiations with the
Alliance of Motion Picture & Television Producers
over a contract dispute fell through.
The WGA's current contract expired last Wednesday and the two groups had been in negotiations in an effort to avoid a strike.
"Early today, the WGA completely withdrew its DVD proposal, which the [AMPTP] companies said was a stumbling block,"
said WGA West in a Sunday statement.
"Yet the AMPTP made no response to any of the other proposals that the WGA has made since July."
Some of the demands the WGA is looking for include a substantial hike in the writers' share of electronic sell-through revenue, "which is currently based on 1.2% of the licensing fee production companies receive for each downloaded item." The WGA wants 2.5%.
The WGA also wants to get paid for internet
streaming
of its work which they currently do not. The AMPTP calls web streaming "promotional" and insists that studios do not get significant revenues from streaming to pay other content partners.
More updates as they become available.
Source:
VideoBusiness