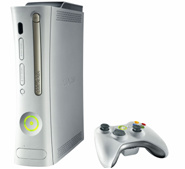 Even though the amount of time involved is not very significant especially in the Japanese territory, gaming sites are reporting that
Microsoft
's
Xbox 360
console managed to briefly pass out sales of
Sony
's
PlayStation 3 (PS3)
. While Microsoft would hope that Japanese gamers have just warmed to the console suddenly, the logical reason for the jump in performance was
Namco Bandai
's
Ace Combat 6: Fires of Liberation
.
The title debuted at number two in the Japanese charts last week. According to data from
Media Create
, the Xbox 360 moved 17,673 units during the week, compared with just 3718 the week before that. In the same time, Sony moved 17,434 PS3 units, just 239 units short of the Xbox 360 figures. In the previous week, 18,785 PS3s were sold.
During the same period, the handheld consoles from Sony and
Nintendo
showed the lasting demand for both. The
PlayStation Portable (PSP)
sold 59,714 units and the
Nintendo DS
sold 78,597 units. The
Wii
console continued to leave its competitors watch it move further ahead, selling 37,617 units during the week.
Source:
GamesIndustry.biz