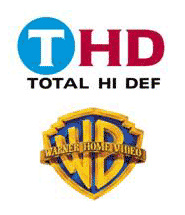 After previously pushing back its launch plans for
Total HD
discs,
Warner Home Entertainment
has shelved the project entirely for now, according a Warner Exec who spoke with
HighDefDigest
.
Total HD
discs were touted as the answer to the on-going format war, storing
Blu-ray
data on one side of the disc and
HD DVD
data on the other. At the Consumer Electronics Show (CES) in January, the studio showed off its new disc, saying it would retail for little more than single-format title.
Originally, the plan was to make the first discs available on the market in the second half of 2007. However, earlier this year, the company revealed that it was pushing back plans to sell movies on Total HD discs until early 2008. Now, a Warner Exec has told HighDefDigest that the project has been shelved due to a perceived shift in retailer needs after
Paramount
chose the HD
DVD
format exclusively.
"The short answer is, for the moment, it [Total HD] is on hold,"
explained
Jim Noonan
, SVP of Strategic Promotion and Communication for Warner Home Entertainment Group.
"We're the only studio producing content in both formats. If we were to put out Total HD with just our titles, it wouldn't really provide the solution to our retail partners that it was intended to provide. If anything, at this point, it would further complicate their life, because there would be another product looking for shelf space. Our job is not to further complicate the lives of our retailers."
When asked if Total HD may be released in the future, Noonan didn't rule it out, saying that the disc has no expiration date.
Source:
HighDefDigest